Drapery Cleaning Denver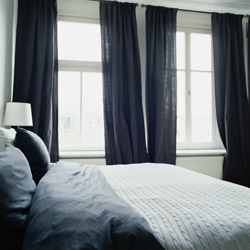 Did you know that are actually designed to filter impurities out of the air entering through your windows? That's why it's important to have your drapes cleaned on a regular basis. By having your draperies cleaned, they can continue to do their job of filtering airborne impurities more effectively. When it's time to clean your draperies, call Denver Carpet Cleaning at (303) 395-1795 or use the form on this page to contact us.
We'll clean your drapes at your Denver home or Denver office right where they hang. Dust and dirt in fabrics weaken the fibers and shorten the life of your draperies and window coverings. While dusting and vacuuming help, they are not enough to keep your draperies clean and looking good. When you call Denver Carpet Cleaning, rest assured that your draperies, blinds and window coverings will suffer no shrinkage, no damage and no loss of resins or flame retardant.
Denver Carpet Cleaning Cleans Your Window Decor with Methods the Manufacturers Recommend
When cleaning your draperies and other window decor, we use only the methods recommended most by window covering manufacturers: injection/extraction and ultrasonic. Injection/extraction and ultrasonic are the methods recommended by drapery and window covering manufacturers, including HunterDouglas, one of the largest window decor manufacturers in the United States. Injection/extraction is very effective for hand cleaning fine draperies because it does not incorporate the use of heat, the major cause of drapery shrinkage. Injection/extraction also does not involve agitation, making it the gentlest form of cleaning for more fragile fabrics. Ultrasonic cleaning uses the cavitation energy of millions of exploding bubbles created by high frequency sound waves passing through a cleaning solution in specially designed tanks. Both methods effectively remove dirt, grease, food, smoke, hairspray, pollen, mold, allergens, pet hair and skin oils, insects and other indoor contaminants.
Most window coverings are cleaned using water-based methods. But specialty Roman shades and some room darkening shades that cannot be cleaned using water-based methods are dry cleaned using environmentally friendly solvents to prevent damaging them or voiding manufacturer warranties.
Fabric Shades Cleaning Denver | Blinds Cleaning Denver | Window Covering Cleaning Denver
Like draperies, dust buildup will quickly ruin your fabric shades, blind and other window decor. Vacuuming and dusting alone are not enough, your window coverings need to be professionally cleaned in order to maintain their beauty and effectively filter the airborne irritants that come from outside. Regular professional deep cleaning will also increase the lifespan of the working mechanisms in your blinds and shades, so they operate efficiently for years to come. Call Denver Carpet Cleaning at (303) 395-1795 or use the form on this page to contact us online.
We clean window coverings made of all sorts of materials, including fabrics, metal, vinyl, composites and wood in any configuration, including:
Silhouette Shades
Luminette Privacy Sheers
Window Scarves
Duette Shades
Vignette Shades
Custom Shades
Balloon Shades

Pleated Shades
Fabric Shades
Blackout Drapes
Cascades
Swags
Jabots

Cornices & Valances
Festoons
Lanbrequins
Austrian Shades
Mecho Shades®
Bolted-in Top Treatments
How often should window coverings be cleaned?
How often you should have your window coverings cleaned professionally depends on where they are located and how much sunlight they receive. Window treatments in households or offices with smokers or pets or ones located near uptake or heating vents and those close to windows that are opened frequently require more frequently cleanings (every 1 to 2 years). Window treatments in guest rooms and other less frequently used rooms with minimal sunligh exposure will require less frequent cleaning (typically every 2 to 4 years).
Constant sun exposure will weaken most fabric fibers and cause color fading or streaking. Solar window tinting film, drapery linings and the use of shades or blinds behind the drapes will help increase the life of fabric window treatments in a sunny window.
How much will it cost?
The cost depends on several factors, including how many windows and/or doors you have that have window coverings and window treatments as well as what type of window treatments you have in each. To help us provide you with the most accurate estimate, please provide:
The number of windows and/or doors in your denver home or denver office that have blinds and other window treatments.
Type or types of window coverings and window treatments you have, including drapes, sheers, scarves, jabots, valances, swags, blinds, shades and bolted-in top treatments.
Type of fabric or material your window covering is made of.
Type & number of linings.
Window covering and window treatment dimensions - number of pleats (on pleated styles), width in feet (for non pleated styles) and the height
For a free estimate, call Denver Carpet Cleaning at (303) 395-1795. We'll come to your Denver home or Denver office, evaluate the scope of the project and provide you with a precise estimate. We also provide custom maintained plans for our denver commercial clients to fit busy schedules.