Denver Area Rug Cleaning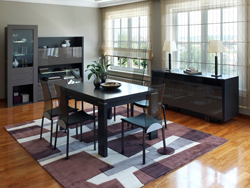 The key to maintaining your area rug is to vacuum it frequently. This keeps most of the dirt and allergens out. Once per week is idea, but no less often than every other week. The proper way to vacuum is to remove all the furniture off of them, then vacuum. Flip the rug over and vacuum the back side. Then, flip it back over and vacuum the top side again. Don't vacuum over the fringe, or it could get stuck on your beater bar. To clean the fringe, use the curtain cleaning tool on your vacuum cleaner and adjust the vacuum to a low setting.
Tending to spills right away will help keep your rug spot-free. For new spills, place a clean white towel or cloth underneath the rug. Then, using white paper towels or a white cotton towel, blot the spill until you've gotten as much of the liquid up as possible, working from the outer edges inward to keep from spreading the stain. Replace the cloth underneath your rug with a clean, dry one. Dip a white cloth or towel into a little club soda or cold water and wring it out so it's just damp and not sopping wet. Again the spot, working from the outer edges inward, to keep from spreading the stain. Then, dry the rug by blotting with a dry towel until as much moisture as possible is absorbed.
For more stubborn spots and stains, try blotting some shaving cream or use a mixture of 1 teaspoon mild dishwashing soap to 1 cup of water. If the stain still doesn't come up, call Denver Carpet Cleaning at (303) 395-1795.
Denver Area Rugs Need Periodic Professional Cleaning
In addition to vacuuming and tending to stains right away, area rugs periodically need to be professionally cleaned. For most area rugs, the necessary frequency is every one to two years, depending on how much foot traffic the rugs gets and whether or not there are smokers, elderly people, people with respiratory illnesses, children or pets in the home or place of business. For example, an area rug that receives a lot of foot traffic and ones located in buildings where there are children and pets will need to be cleaned more frequently than one located in a seldom used office or guest room.
When it's time to have your hand-made or machine made area rug, Oriental rug, Persian rug, Turkish rug, Silk rug or priceless antique rug professionally cleaned, call Denver Carpet Cleaning at (303) 395-1795 or use the form on this page to request an appointment. We'll treat it as if it were our own.
The highly trained professionals at Denver Carpet Cleaning will come get your rug and:
Pre-inspect for type of material, material condition, dye stability, stains, and overall soiling to determine the correct cleaning agents to use to achieve the best results.
Pre-vacuum both sides of the area or oriental rug to help remove loose soil, pet dander, dust mites and other contaminants.
Pre-treat stains and heavily soiled areas.
Lightly agitate to loosen stains and soil.
Deep clean the rug using low moisture hot water extraction to remove soil and stains.
Clean and brighten fringes.
We will then return your rug clean and deodorized. If you'd like, we can also apply our DuPont Teflon® carpet protector to protect your rug from future spills, stain and pet accidents.
DuPont Teflon® Carpet protector is safe to use on area rugs made of a variety of materials. It is non-toxic and is actually recommended by carpet manufacturers and carpet fiber producers to help lengthen the life of your investment.